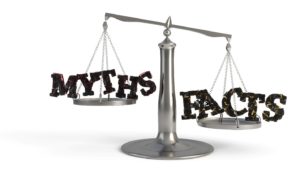 Root canal therapy is a famous dental treatment. As well known as it is, however, not many people fully understand the procedure. Popular media has spread many misconceptions about it. It's time to set the record straight! In this post, we discuss some of the most common myths about root canal therapy and the truths behind them.
Myth #1: Root Canal Therapy Is Extremely Painful
One of the most important root canal facts to keep mind is that the treatment is not painful. In fact, it is designed to relieve pain. Modern advances in dental techniques, along with the proper use of anesthetics, ensure that patients are comfortable while undergoing root canal therapy. If you feel anything at all, it may feel like you are simply receiving a small filling for your tooth.
Myth #2: Root Canal Therapy Costs Too Much Money
Of course, each endodontist sets their own price for root canal therapy, and it is true that the procedure costs more than a filling or other minor restorative treatment. However, a root canal can actually end up saving you money in the long run because it can prevent the need for an extraction and thereby spare you the expense of paying for a dental implant later on. Plus, in many cases, dental insurance is willing to pay for up to half of the cost of root canal therapy.
Myth #3: Root Canal Therapy Usually Fails
Several decades ago, root canal therapy was a risk because if the endodontist or dentist did not completely clean out the damaged or infected area, the tooth would continue to experience problems. Today, such issues are quite rare due to advances in dental techniques and advanced imaging technology. In the rare instance that a root canal does fail, it may be possible to correct the problem with endodontic retreatment.
Myth #4: You Will Need Powerful Painkillers
After root canal therapy, it is to be expected that you will experience some soreness and swelling in and around the treated tooth. However, any pain should be fairly easy to manage with over the counter pain relievers, such as acetaminophen or ibuprofen. If you do experience any terrible pain, that's a sign you should get in touch with your endodontist right away.
Myth #5: Root Canal Therapy Causes Systemic Illness
Back in the 1920s, a dentist published research suggesting that bacteria in a root canal-treated tooth can infect the rest of the body and cause systemic illness. Later, however, that research was shown to be flawed. There is no solid scientific evidence to suggest that bacteria from a successfully treated tooth can have negative consequences for overall health.
Don't let myths about root canal therapy scare you into refusing this remarkable, tooth-saving treatment. Express any concerns you have to your endodontist, and they can help you gain a full understanding of why root canal therapy is a very good thing.
About Us
At Endodontic Associate Saratoga, we have three highly trained endodontists who perform root canal therapy and related procedures. We are always willing to answer our patients' questions about treatment. If you would like to talk to us about any of the services we offer, contact our team at 408-255-6511.